Sheriff: One person dead in small plane crash in Duluth
UPDATE: The man killed in a plane crash near Duluth on Friday has been identified as Dave Rathbun by his employer, Cirrus Aircraft, according to a company statement WDIO News received Monday.
The full statement reads:
"Dave Rathbun, Vision Jet Chief Engineer, was involved in a fatal aircraft accident while on a personal flight Friday afternoon in a privately-owned 2016 Cirrus SR22. He was flying solo in the aircraft at the time and was the only person involved. We are in close contact with the Rathbun family, and our thoughts and prayers are with them at this time.
His passing is a profound loss for the Cirrus family. His presence and character will be missed, but his legacy will be indelible. A key contributor throughout his 26 years at Cirrus Aircraft, Dave played a crucial role in the early design and certification of the SR20. Following similar work on the SR22 and SR22T, Dave was instrumental in the development and successful entry into service of the SF50 Vision Jet.
Cirrus Aircraft personnel are fully engaged in supporting all appropriate authorities in the investigation. With respect to those involved, and as the initial investigation begins, we will not comment on the accident details or speculate about the accident's cause."
Original story follows:
---
One person is dead following a plane crash Friday afternoon near the Bong Bridge in Duluth, according to St. Louis County Sheriff Gordon Ramsay.
Authorities say the plane crashed on the Superior side of the Bong Bridge around 4:00 p.m. on Friday. The Northland Firewire confirmed to KSTP's sister station WDIO News it was a Cirrus SR-22 aircraft.
A 52-year-old Hermantown man was confirmed deceased on the scene, and no one else was in the aircraft at the time of the crash. Police say they do not believe the plane hit the Bong Bridge and no structures in the area were damaged. The crash happened on the ice of the harbor.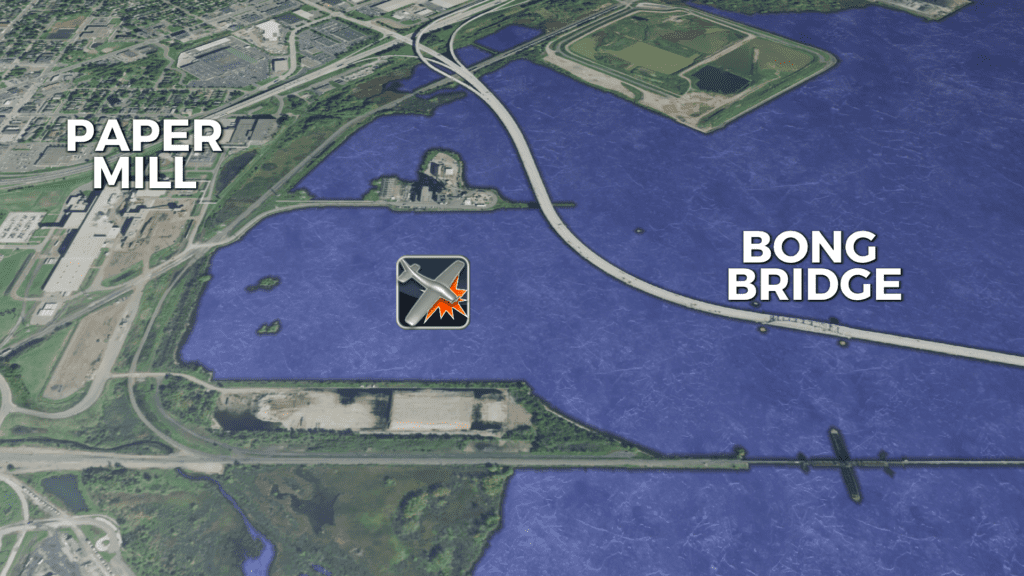 Witnesses nearby said that they heard a loud crash. Traffic continues to move across the Bong Bridge.
Authorities have set up near Grassy Point, which is near where the crash occurred. WDIO News photographer says there is a lot of debris and First Responders continue to search the wreckage.
St. Louis County Sheriff Gordon Ramsay Tweeted that the plane is "described as a smaller plane that is partially submerged. Searching for any survivors at this time."
The Federal Aviation Administration and National Transportation Safety Board have been notified and are also responding to the scene for the crash investigation.
Agencies that responded included the St. Louis County Sheriff's Office, Duluth Police Department, St. Louis County Rescue Squad, Duluth Fire Department, US Coast Guard and Douglas County Sheriff's Office.